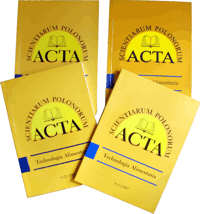 Acta Scientiarum Polonorum Technologia Alimentaria is a scientific journal founded in 2001 by all Polish Universities of Agriculture.
Original scientific peer-reviewed papers published in Acta Scientiarum Polonorum Technologia Alimentaria journal cover the main aspects of food science from raw materials properties through processing aspects up to the quality of final products and their nutritional propoerties, usability and dietetics.
Journal is affiliated with Faculty Food Sciences and Nutrition, Poznań University of Life Sciences.
The papers are published in English only, in four issues yearly.
The journal is edited in the paper form and also presented on-line.
This journal is an open access and non-profit enterprise. Published papers may be collected, read and downloaded free of charge, with the author's rights reserved. We have adopted a Creative Commons licence CC BY-NC (Attribution-NonCommercial) .
Acta Scientiarum Polonorum - Technologia Alimentaria is covered by:
Web of Science Core Collection - Emerging Sources Citation Index, Medline, Scopus, PubMed, EBSCO, Food Science and Technology Abstracts®, CAB International, Chemical Abstracts Service, Index Copernicus, Ulrich's Database, Directory of Open Acces Journals, Agro-Librex, Agro-Agen, Agris-FAO, Embase, ProQuest, CrossRef, Scimago, HINARI.
Acta Scientiarum Polonorum Technologia Alimentaria is scored 15 points in the Polish Ministerial List of Journals.
The journal Acta Scientiarum Polonorum Technologia Alimentaria has received grants from the Polish Ministry of Science and Higher Education for funding of projects covering the activities to promote and popularize the science:
Promote and popularize the science - grant number 1074/P-DUN/2011
Promote and popularize the science - grant number 678/P-DUN/2013
Promote and popularize the science - grant number 658/P-DUN/2014
Promote and popularize the science - grant number 688/P-DUN/2015
Promote and popularize the science - grant number 714/P-DUN/2016
Metrics:
Powered by